Welcome to the Royall House and Slave Quarters
The Royall House and Slave Quarters functions as a site of memory. In the eighteenth century, the plantation was home to the Royalls, the largest slaveholding family in Massachusetts, and at least sixty enslaved women, men, and children whose forced labor helped build the Royall family's wealth. As one of the only remaining freestanding quarters where enslaved people lived and worked in the North, the museum bears witness to their lives, to the intertwined stories of wealth and bondage in pre-Revolutionary Massachusetts, and to the resistance and political and legal activism of enslaved and free Black people in the eighteenth century.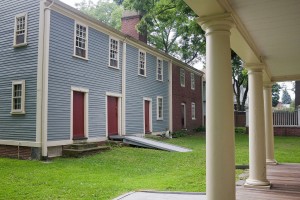 The museum is open to the public for tours on weekends from June through October, while school and group tours are available from mid-March to mid-November. The museum also presents a range of public programs throughout the year. Members receive free admission to the museum and free or discounted admission to most programs.
Museums Are Not Neutral
As people across the world take to the streets to protest the police killings of Breonna Taylor in Louisville, George Floyd in Minneapolis, and Tony McDade in Tallahassee, we have a responsibility to speak out.
We are committed to telling the history of slavery and freedom while highlighting how the legacy of enslavement creates systemic inequalities today. Thus, we stand in solidarity with the protesters bravely fighting against police violence and demanding justice, accountability, and a transformation of policies that sustain racial and economic inequalities.
Our job is not only to listen, but also to uplift and amplify the history and voices of Black people locally, nationally, and globally in the struggle for freedom.
Museums Are Not Neutral. Black Lives Matter.
Join Now Support Our Work Stay In Touch
—–