Each year's Giving Voice benefit provides important support for the Royall House and Slave Quarters while building a community of engaged members and visitors and showcasing the museum's important interpretation of critical themes in our past.
An Afternoon with Historian Tiya Miles
Sunday, September 15, 2019 from 2:00 – 4:00 p.m.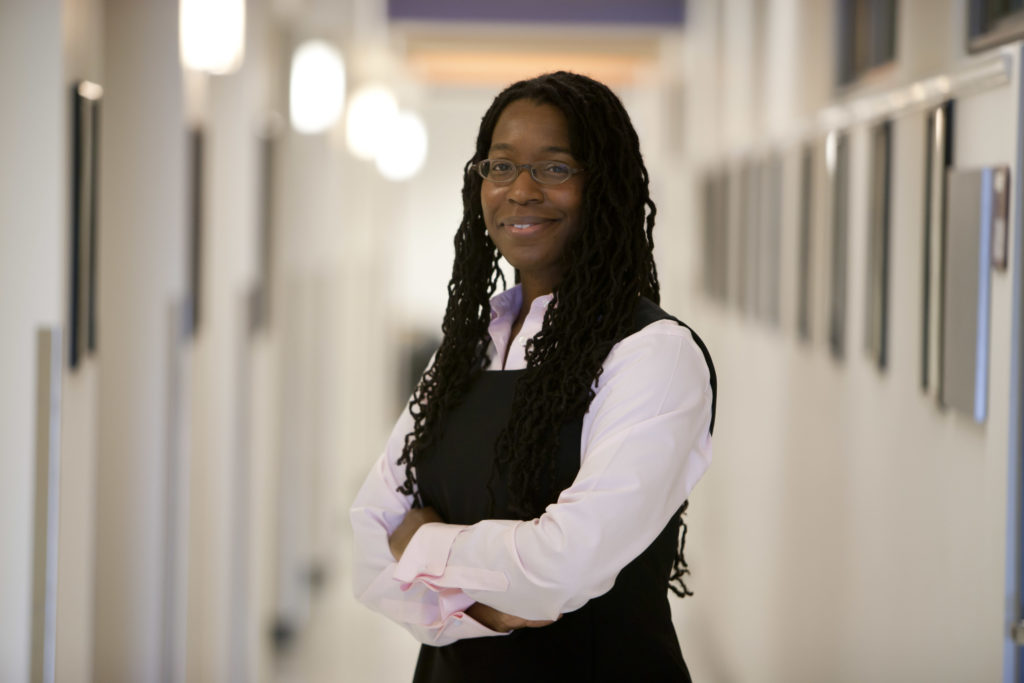 View the museum interiors, enjoy refreshments on the lawn, and hear remarks by Tiya Miles, Professor of History and Radcliffe Alumnae Professor at Harvard University.
Recipient of a 2011 MacArthur Foundation Fellowship, Professor Miles is the author of five books of history and one novel. Her most recent work, The Dawn of Detroit: A Chronicle of Slavery and Freedom in the City of the Straits, was co-winner of the prestigious 2018 Frederick Douglass Book Prize, among many other honors.
She writes, "Historians of the United States are continually unearthing an ugly truth: American slavery had no bounds. It penetrated every corner of this country, materially, economically, and ideologically, and the unjust campaign to preserve it is embedded in our built environments, North and South, East and West."
Giving Voice 2018 with Historian Hasan Kwame Jeffries on "Teaching Hard History"
We are truly grateful to all those who participated in helping us put on Giving Voice 2018 with Professor Hasan Kwame Jeffries. We want to give our sincere thanks to the guests, staff, supporters, and volunteers who helped make this event possible!
2017: Historian and Harvard Law School Professor Annette Gordon-Reed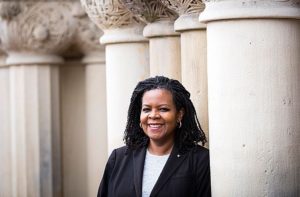 Renowned historian and Harvard Law School professor Annette Gordon-Reed spoke about the history and legacies of slavery on the estate of the largest slaveholding family in colonial Massachusetts. She writes, "History is to a great degree an imaginative enterprise; when writing it or reading it, we try to see the subjects in their time and space. Imagining requires some starting point of connection."
Professor Gordon-Reed is the author of The Hemingses of Monticello: An American Family, which won the Pulitzer Prize in history and the National Book Award for nonfiction. Her most recent book is "Most Blessed of the Patriarchs": Thomas Jefferson and the Empire of the Imagination, written in collaboration with historian Peter S. Onuf. Her many honors include the National Humanities Medal, a Guggenheim Fellowship in the humanities, and a MacArthur Fellowship. Giving Voice Annual Benefit Event – 2:30-4:30 p.m. The museum's annual benefit event supported the continued preservation and interpretation of the Royall House and Slave Quarters, site of the only freestanding slave quarters in the Northern United States and a testament to the complex history of slavery and meanings of freedom in America. The event on the museum grounds included refreshments and tours. Giving Voice tickets were $40 for RH&SQ members, $50 for nonmembers. Special Opportunity: Conversation with Annette Gordon-Reed – 2:00-3:00 p.m. This event also offered the opportunity to participate in an additional small-group discussion with Professor Gordon-Reed inside the Royall House, prior to her Giving Voice presentation.
Click here to view a list of donors to this event.
2016: Playwright Kirsten Greenidge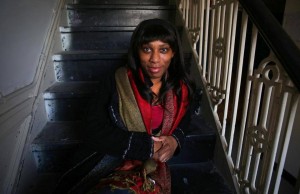 Kirsten Greenidge's work shines a strong light on the intersection of race and class in America, and she enjoys the challenge of placing underrepresented voices on stage. "I like to write about the have nots," she says. "The outsiders." Her Obie award-winning Milk Like Sugar just completed a Boston run, simultaneous with a premiere of Baltimore, about a racially charged incident on a college campus. Greenidge is currently working on a play commissioned by Oregon Shakespeare Festival's American Revolutions program about Belinda Sutton, an enslaved woman who worked and lived on our site in the eighteenth century.  "Go visit," she says.
2015: "Compelled to Servitude": The Story of Belinda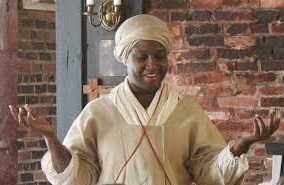 Giving Voice 2015, held on June 7, featured the premiere of a new first-person interpretation of Belinda, whose eloquent 1783 petition to the Massachusetts legislature for a pension from the estate of Isaac Royall Jr. is among the earliest narratives by an African American woman. Renowned storyteller Tammy Denease used Belinda's own words to bring this strong woman to life — on the site where she lived and worked – and will discuss her own fascinating creative process with the audience. The first known documentation of Belinda, a woman enslaved by the Royall family, occurs in 1768, when her son and daughter were baptized in Medford, Massachusetts. In February 1783, in the wake of the American Revolution, Belinda successfully petitioned the Massachusetts General Court for a pension for herself and her infirm daughter from the proceeds of Isaac Royall's estate. She would go on to petition the legislature five more times over the next ten years in her effort to secure payment of what she was owed for a lifetime of servitude. Belinda's petition has inspired poets and fascinated historians. It has been seen by some commentators as the first call for reparations for American slavery. And it opens a rare window onto the life on an enslaved woman in colonial North America.
Tammy Denease is uniquely qualified to explore and interpret what we know of Belinda and the turbulent times in which she lived. As a storyteller, teaching artist, and living historian, Ms. Denease gives voice to African-American women whose contributions to the American past are all too often obscured in the traditional historical record. Ms. Denease brought her interpretation of the life of Elizabeth "Mum Bett" Freeman to the Royall House and Slave Quarters for two exciting performances in 2014, and we were proud to present the premiere of her interpretation of Belinda at Giving Voice this year.
2014: Joe McGill and the Slave Dwelling Project
Since founding The Slave Dwelling Project four years ago, historic preservationist Joe McGill has slept in some 60 cabins and quarters across America that once housed enslaved people, and his goal is to stay overnight in all that remain. By focusing attention and resources on preserving these historically important dwelling places, he is also helping to ensure that the people who lived in these structures are remembered. The Royall House and Slave Quarters was honored to welcome the Project to Massachusetts in October 2014 for an array of special events including Giving Voice, made possible through the generous sponsorship of Tufts University. That evening, a small number of guests were invited to join Mr. McGill for a once-in-a-lifetime opportunity to stay overnight in the only remaining freestanding eighteenth-century slave quarters building in the North.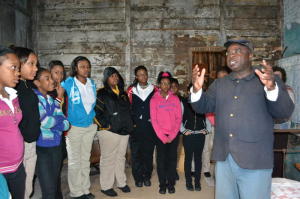 On November 2, 2014, Boston Globe North featured "embedded" journalist Clennon King's article about the recent overnight at the Royall House & Slave Quarters led by Joseph McGill Jr. We are grateful to the author for capturing the essence of this unique experience through his story, photos, and accompanying video. Additionally, Tufts University, lead sponsor of the weekend, also hosted a talk on the university's Medford/Somerville campus on Thursday, October 9 from 6 – 8 p.m. Joseph McGill Jr. of The Slave Dwelling Project will introduce his work to the Tufts community, followed by a reception. This program was part of Arts Across Medford, the month-long arts festival produced by CACHE in Medford.
2013: James DeWolf Perry, executive director of The Tracing Center on Histories and Legacies of Slavery

James DeWolf Perry, executive director of The Tracing Center on Histories and Legacies of Slavery, was the guest speaker for Giving Voice 2013 on Saturday, June 8. Mr. Perry continued a tradition of exceptional speakers at this annual event to benefit the Royall House and Slave Quarters. Executive director of The Tracing Center on Histories and Legacies of Slavery, was nominated for an Emmy award for his role as the principal historical consultant for Traces of the Trade: A Story from the Deep North, a 2008 PBS documentary about the legacy of the northern U.S. role in slavery and the slave trade.  Since the film's premiere, Mr. Perry has spoken across the nation about his family's, and the nation's, historic role in slavery, and has facilitated discussions about the legacy of slavery and race at high schools and universities and with corporate, educational, religious and community groups.  Mr. Perry attended law school at Columbia University, and his graduate work at Harvard has included research on the transatlantic slave trade and its abolition.
2012: Playwright Lydia Diamond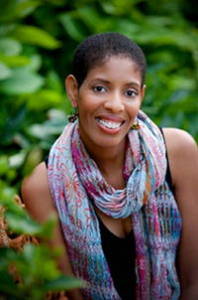 Giving Voice 2012 featured prominent American playwright Lydia R. Diamond, who had recently made her Broadway debut with Stick Fly, was the featured speaker at Giving Voice in 2012, on our grounds in Medford, Massachusetts. Her many award-winning plays, produced at theaters and universities around the country, address complex issues of race and slavery. At Giving Voice, local high school students participated alongside Ms. Diamond and helped demonstrate the unique ability of the arts to help people of all ages understand challenging and complex aspects of the American past. Ms. Diamond began her talk by sharing her own reactions to the powerful history of the Royall House and Slave Quarters, a central site for the understanding of slavery in colonial New England. She went on to speak eloquently about her own writing, noting that she works "to celebrate the humanity that lived between and around the pain. I am aware that my ancestors, who were enslaved people, lived and cried, and loved and laughed, agitated and manipulated, more fully aware of their own predicament than we'll ever be, but always human and always with a will to live." To engage young people in the program, the Royall House and Slave Quarters partnered with Medford High School history teacher Jonathan Streff, a group of whose students shared comments on Ms. Diamond's play Harriet Jacobs, inspired by its title character's 1861 autobiography, Incidents in the Life of a Slave Girl. The students' dialogue with the playwright was lively and engaged. Articulating the feeling of several of the students, one said that although slavery is a topic of discussion beginning in elementary school, "I think we become desensitized to it." Harriet Jacobs, by contrast, had conveyed vividly the experience of "living with an evil that no one could protect you from." In a comment that summed up many of the reactions, another student said, "It made me look at slavery in a way that I never had before."