Unless otherwise noted, all lectures and book talks are held in the Slave Quarters located at 15 George Street in Medford, Massachusetts. Visit our Directions and Map page for more information. 
For regular public programs, admission is free for members, free for two guests per EBT card, and $10 for non-members. Tickets are available for purchase at the door unless otherwise noted. 
Holiday Shopping Day
Saturday, December 4 from 12:00 noon to 2:00 p.m. 
Our museum gift shop at 15 George Street, Medford, Massachusetts, will be open for holiday shopping on Saturday, December 4th, this year.
The shop is again carrying reenactor Tammy Denease's "Hidden Women" soaps, lovely shea butter and olive oil bar soaps with labels featuring historical characters she portrays, including Belinda Sutton and Elizabeth "Mumbet" Freeman.
Shop for handcrafted items including tumbled shard brooches, hand-dipped beeswax candles, and eighteenth-century games, toys, and crafts. Museum bookmarks, magnets, mugs, and water bottles make perfect gifts.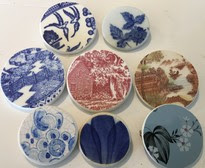 An assortment of fiction and nonfiction for adults and children — with several titles autographed by their authors — will appeal to history lovers of any age.
All museum shop proceeds support the work of the Royall House and Slave Quarters.
We ask all visitors, including those who are vaccinated, to please wear masks inside our museum's buildings. 
New England Foundation for the Arts Grants Support Museum Operations
November 1, 2021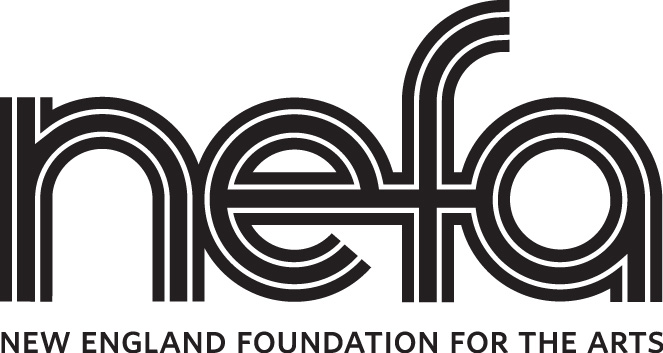 We are very excited to announce a $10,000 general operating grant from NEFA, received in October to supplement the $15,000 grant awarded last spring. This funding targeted small and midsized cultural organizations that have been most at risk during the pandemic, including historically under-resourced organizations, as well as those serving under-resourced populations, communities, and/or art forms.
The Royall House and Slave Quarters is honored to be supported by the New England Foundation for the Arts through the New England Arts Resilience Fund, part of the United States Regional Arts Resilience Fund, an initiative of the U.S. Regional Arts Organizations and The Andrew W. Mellon Foundation, with major funding from the federal CARES Act from the National Endowment for the Arts.
Royall House and Slave Quarters Awarded Cummings Grant
May 18, 2021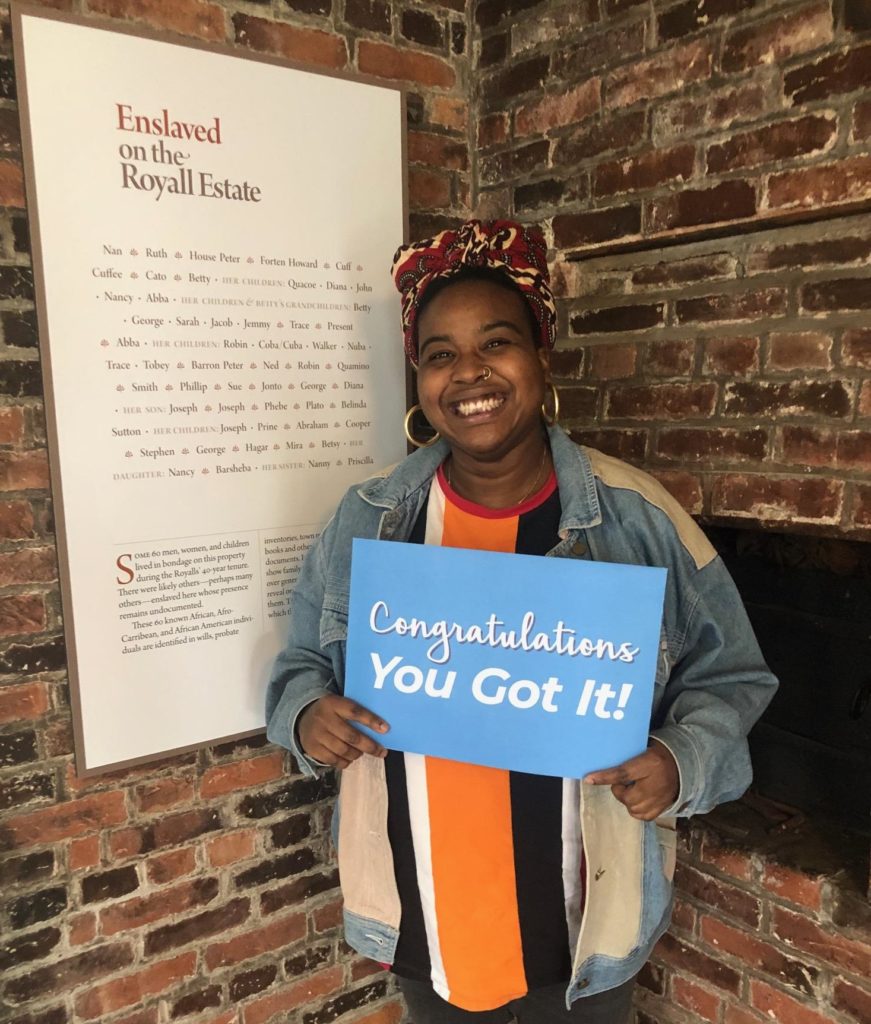 We are proud to announce that the Royall House and Slave Quarters is one of 140 local nonprofits to receive grants through Cummings Foundation's $25 Million Grant Program. Our organization was chosen from a total of 590 applicants during a competitive review process, and will receive $250,000 over 10 years.
"We are enormously grateful to Cummings Foundation for its faith in our museum's work to tell a complex story of slavery and the contestation over freedom in America, and to amplify how the legacies of enslavement affect communities today," said Royall House and Slave Quarters executive director Kyera Singleton. "The foundation's long-term commitment will help us make the history of Northern slavery accessible and expansive through a social justice lens, supporting the staffing necessary to expand the interpretation of the museum through new programs, educational offerings, partnerships, and exhibits."
The Cummings $25 Million Grant Program supports Massachusetts nonprofits that are based in and primarily serve Middlesex, Essex, and Suffolk counties. Through this place-based initiative, Cummings Foundation aims to give back in the area where it owns commercial buildings, all of which are managed, at no cost to the Foundation, by its affiliate, Cummings Properties.
"We aim to help meet the needs of people in all segments of our local community," said Cummings Foundation executive director Joel Swets. "It is the incredible organizations we fund, however, that do the actual daily work to empower our neighbors, educate our children, fight for equity, and so much more."
About Cummings Foundation: Woburn-based Cummings Foundation, Inc. was established in 1986 by Joyce and Bill Cummings and has grown to be one of the three largest private foundations in New England. The Foundation directly operates its own charitable subsidiaries, including New Horizons retirement communities in Marlborough and Woburn, and Veterinary School at Tufts, LLC in North Grafton. Additional information is available at www.CummingsFoundation.org.
Mass Humanities Grants Support our Museum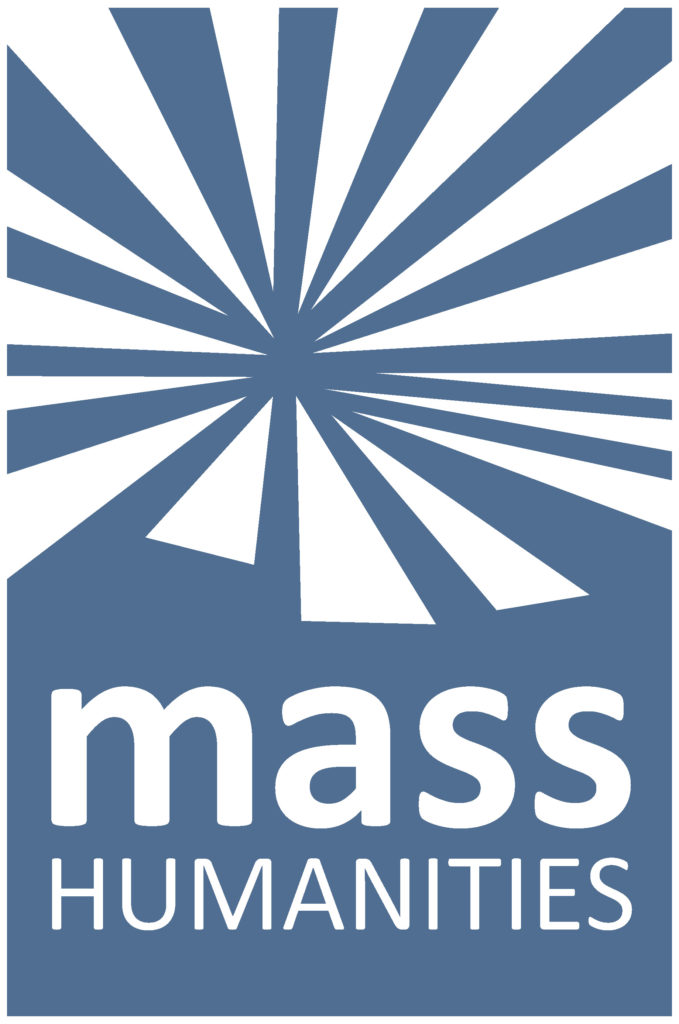 We are thrilled to announce three recent grant awards from Mass Humanities that will help support adult programming, scholarly research, a new virtual exhibit, and youth education at our museum.
An award of $15,000 via the Sustaining the Humanities through the American Rescue Plan (SHARP) program will go toward youth education program staffing. This funding from Mass Humanities has been made possible by the National Endowment for the Humanities through the American Rescue Plan, legislated by Congress.
Funds for "Expanding the Story of Northern Slavery" will support new archival research on slavery in Massachusetts and the people enslaved by the Royall family, with a goal of relaunching our site's historic interpretation through a new virtual exhibit, tour revisions, and community conversations about the local history of slavery and its legacies today. This $15,400 matching grant from Mass Humanities has been provided through the Massachusetts Cultural Council.
And, a $1,500 grant from the Mass Humanities Bridge Street Fund will help sponsor three online programs this fall, including the Poets on Craft event with Cave Canem Foundation in November. Watch this space for details on these programs.