Unless otherwise noted, all lectures and book talks are held in the Slave Quarters located at 15 George Street in Medford, Massachusetts. Visit our Directions and Map page for more information. 
For regular public programs, admission is free for members, free for two guests per EBT card, and $10 for non-members. Tickets are available for purchase at the door unless otherwise noted. 
Royall House and Slave Quarters Awarded Cummings Grant
May 18, 2021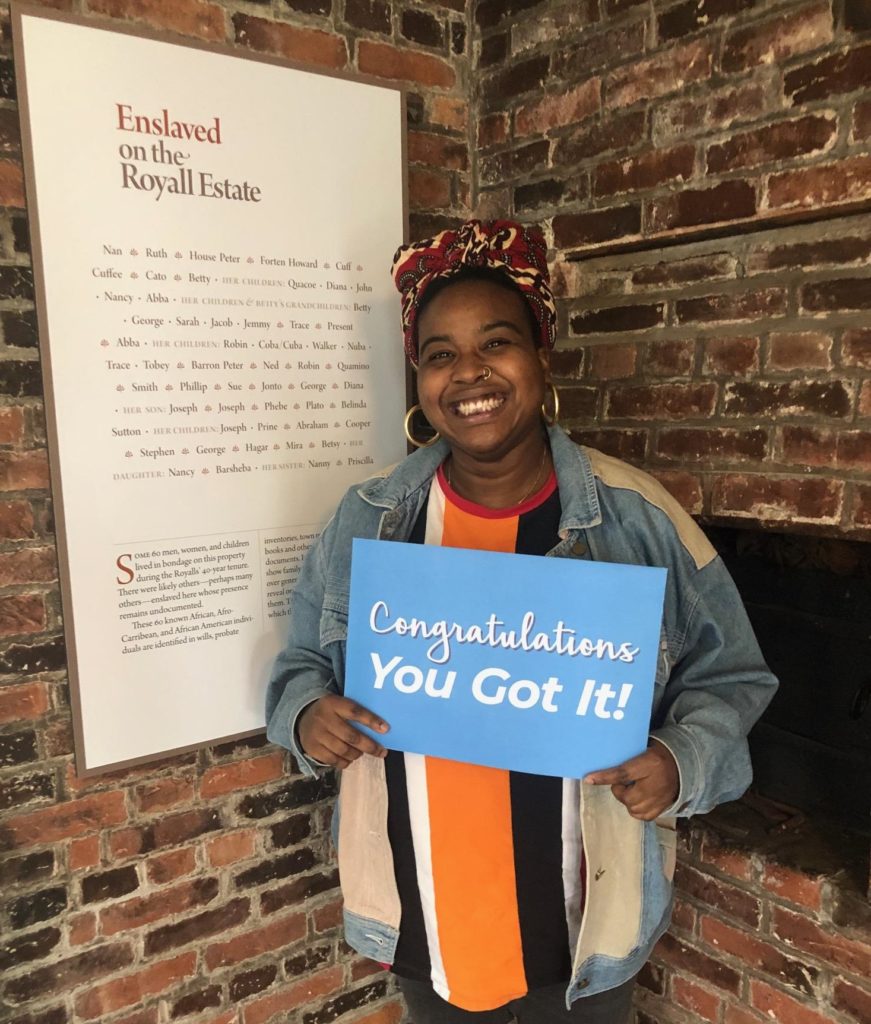 We are proud to announce that the Royall House and Slave Quarters is one of 140 local nonprofits to receive grants through Cummings Foundation's $25 Million Grant Program. Our organization was chosen from a total of 590 applicants during a competitive review process, and will receive $250,000 over 10 years.
"We are enormously grateful to Cummings Foundation for its faith in our museum's work to tell a complex story of slavery and the contestation over freedom in America, and to amplify how the legacies of enslavement affect communities today," said Royall House and Slave Quarters executive director Kyera Singleton. "The foundation's long-term commitment will help us make the history of Northern slavery accessible and expansive through a social justice lens, supporting the staffing necessary to expand the interpretation of the museum through new programs, educational offerings, partnerships, and exhibits."
The Cummings $25 Million Grant Program supports Massachusetts nonprofits that are based in and primarily serve Middlesex, Essex, and Suffolk counties. Through this place-based initiative, Cummings Foundation aims to give back in the area where it owns commercial buildings, all of which are managed, at no cost to the Foundation, by its affiliate, Cummings Properties.
"We aim to help meet the needs of people in all segments of our local community," said Cummings Foundation executive director Joel Swets. "It is the incredible organizations we fund, however, that do the actual daily work to empower our neighbors, educate our children, fight for equity, and so much more."
About Cummings Foundation: Woburn-based Cummings Foundation, Inc. was established in 1986 by Joyce and Bill Cummings and has grown to be one of the three largest private foundations in New England. The Foundation directly operates its own charitable subsidiaries, including New Horizons retirement communities in Marlborough and Woburn, and Veterinary School at Tufts, LLC in North Grafton. Additional information is available at www.CummingsFoundation.org.

Campaign Update from our Executive Director: Slave Quarters Preservation
We Did It!
When our campaign began, we were in the midst of what seemed like an impossible situation. We had to figure out how to finance the cost of unexpected and emergency repairs to the Slave Quarters while navigating the financial burden of closing our museum as a result of COVID-19.
As we often do at the RH&SQ, we turned to our community and asked for help. And, in our time of need, you all not only showed up but also you showed out! We have raised over $38,000 during the course of our campaign due to your generosity.
Because of your donations, our contractors are in the process of making the repairs to the Slave Quarters. The additional money we raised throughout the campaign will help us cover our operational costs, invest in technology for virtual programming, and bolster our programs on the legacies of enslavement today.
Although our campaign ends tonight, this is not a goodbye. We hope you will stay in touch with us on social media. And, if you want to keep up to date with our museum and our virtual programming for the Fall, please subscribe to our monthly e-newsletter.
With your support, we made the impossible, possible. Thank you from everyone at the RH&SQ. We are lucky to have you on our team!
All the best,
Kyera Singleton
Museums are not Neutral
As people across the world take to the streets to protest the police killings of Breonna Taylor in Louisville, George Floyd in Minneapolis, and Tony McDade in Tallahassee, we have a responsibility to speak out.
We are committed to telling the history of slavery and freedom while highlighting how the legacy of enslavement creates systemic inequalities today. Thus, we stand in solidarity with the protesters bravely fighting against police violence and demanding justice, accountability, and a transformation of policies that sustain racial and economic inequalities.
Our job is not only to listen, but also to uplift and amplify the history and voices of Black people locally, nationally, and globally in the struggle for freedom.
Museums are not Neutral. Black Lives Matter.