Unless otherwise noted, all lectures and book talks are held in the Slave Quarters located at 15 George Street in Medford, Massachusetts. Visit our Directions and Map page for more information. 
For regular public programs, admission is free for members, free for two guests per EBT card, and $10 for non-members. Tickets are available for purchase at the door unless otherwise noted. 
We're Hiring: Executive Director at Royall House & Slave Quarters
Part Time (20 Hours per Week)
The Executive Director is responsible for the management of the Royall House & Slave Quarters under the direction of the Board of Directors, providing the greatest public access and visibility to the museum while conforming to site preservation standards. The position advances the strategic plan, and grows visitation and revenue with an eye towards future sustainability. The Executive Director actively engages the Board of Directors, the growing membership, and a team of committed volunteers in order to maximize the impact of the RH&SQ throughout New England and beyond.
Primary Responsibilities
Tours and Programs (30%)
Recruits, trains, and manages paid tour guides. Trains guides on tour content, museum procedures, security measures, and presenting challenging historical material.
Schedules and manages regular weekend tours, private group tours, photograph, and other special on-site requests.
Develops, implements, and evaluates innovative public programs in conjunction with Board committee.
Ensures the best possible visitor experience through annual evaluation of guides and soliciting ongoing feedback from visitors and the community.
Marketing and Membership (30%)
Develops press releases, creates postcards and other marketing materials, and considers creative advertising and promotional initiatives to increase visitation and program attendance.
Promotes the RH&SQ by developing relationships with the media, educational institutions, researchers, students, members, and the general public in collaboration with appropriate staff and board members.
Maintains accurate member and donor information in PastPerfect database. Manages membership fulfillment and renewal solicitations, and other donor mailings as needed. Works with Development Committee to grow membership program.
Monitors mail, phones, and email to ensure timely responses to all incoming communication.
Site Management and Operations (30%)
Serves as the first line in monitoring site and security issues for the collections, buildings, and grounds, including regular walkthroughs and occasional alarm responses. Helps coordinate on-site property and collections care work.
Works with Preservation Committee and Landscape Committee to coordinate maintenance of the buildings and grounds. Encourages and manages volunteer activities to increase capacity.
Processes museum revenue and expenses. Maintains financial records for admissions including group tours and programs, shop revenue, and fundraising activities. Prepares visitation and other operations reports according to a regular schedule.
Sustainability (10%)
Participates in fundraising efforts in conjunction with the Board. Assists in the preparation of grant applications, manages fundraising event, and develops relationships with current and potential donors.
Develops and leads strategic initiatives to increase visibility and advance the organization toward greater financial sustainability.
Qualifications and Experience
Minimum of five years of experience in nonprofit administration, public history, education, community relations, or other related field
Bachelor's degree or commensurate experience in a related field
Proven ability to manage volunteers, and ability to work successfully with a Board of Directors
Experience developing community relationships and ability to effectively represent the organization across a broad spectrum of partner organizations, government agencies, and individual donors
Proven project management capability, including developing and managing strategies, metrics, and budgets
Strategic thinking and analytical skills, good judgment, political astuteness and tact, creative problem-solving, excellent interpersonal and communications skills, integrity, and sense of humor
Knowledge of or curiosity about slavery in colonial New England and a commitment to social justice
Ability to work independently and flexibly including some evenings and weekends
Physical Requirements
The RH&SQ is an 18th century site. Our office environment and historic tours both cover multiple floors and do not have an elevator. Candidate should be able to carry chairs and other items for event setup as well as office supplies up and down stairs.
Applications: please send cover letter and resume to board@royallhouse.org
The Royall House and Slave Quarters is committed to the fundamental principle of equal opportunity and equal treatment for every prospective and current employee. It is the policy of the Royall House and Slave Quarters not to discriminate on the basis of race, color, national or ethnic origin, ancestry, age, religion, creed, disability, sex and gender, sexual orientation, gender identity and/or expression, military or veteran status, or any other characteristic protected under applicable federal, state, or local law.
The City-State of Boston: The Rise and Fall of An Atlantic Power, 1630-1865
Wednesday, March 18, 2020 at 7:30 PM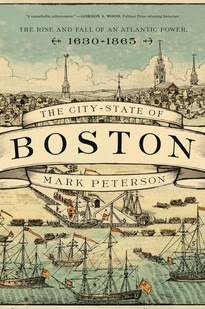 Yale historian Mark Peterson will speak about his new book, The City-State of Boston: The Rise and Fall of an Atlantic Power, 1630-1865. "A daring reworking of the narrative of Boston that Americans have come to know and love, The City-State of Boston may discomfit those who cherish the story of Puritans, revolutionaries, and abolitionists as it has been told. But Mark Peterson's rich and meticulously researched account will be indispensible reading for everyone interested in the history of North America" – Annette Gordon-Reed, Pulitzer Prize-winning author of the Hemingses of Monticello: an American Family.
For this illustrated book talk, Professor Peterson's remarks will be geared toward Boston's history of and complicity with slavery, and the city's connections to the Caribbean.
Mark Peterson is the Edmund S. Morgan Professor of History at Yale University, and author of The Price of Redemption: the Spiritual Economy of Puritan New England. 
Copies of The City-State of Boston will be available for purchase and signing at the event.
The Last & Living Words of Mark: Following the Clues to the Enslaved Man's Life, Afterlife, and Community
Wednesday, April 15, 2020 at 7:30 PM

Mark was an enslaved Charlestown blacksmith, husband, and father, accused of petit treason after he and co-conspirators were discovered in the poisoning death of their enslaver John Codman. An enslaved man named Robin, bequeathed by Isaac Royall Sr. to his daughter Penelope Royall Vassall, supplied the poison that killed Captain Codman.
In 1755 Mark was tried and found guilty, hanged, and gibbeted on Charlestown Common, just a mile from the southern border of the Royalls' Medford estate. Twenty years later, Paul Revere mentioned the gruesome landmark "where Mark was hung in chains" in describing his midnight ride.
Poet and independent scholar Catherine Sasanov has spent years researching Mark and those around him, and will share her knowledge of the haunting details of Mark's short life in this illustrated talk.
Special Event: Patriots' Day Open House
Monday, April 20, 2020, 11:00 a.m. – 2:00 p.m.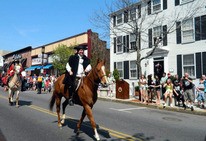 On the night of April 18, 1775, Paul Revere rode past the Royall House and across the Mystic River Bridge into the center of Medford. He paused to awaken Captain Isaac Hall, company commander of the Medford Minute Men, with a warning that the Regulars were out, before continuing his ride to Lexington and Concord, and into American history.
Our home community will celebrate Patriots' Day with a ceremony at the historic Salem Street Burial Ground, children's activities, and an annual reenactment of the visit from Paul Revere, who is scheduled to arrive in Medford at about noon.
Please stop by our Patriots' Day Open House for a different angle on Revere's ride. We will talk about Loyalist Isaac Royall's final departure from his Medford estate a few days before, the enslaved people we believe he left behind, and the "gruesome landmark" Revere passed along the way.
The Slave Quarters will be open so guests can view our archaeological artifact display and other exhibits, and we'll give brief tours of the museum grounds while we listen for hoofbeats on Main Street!
Stolen: Five Free Boys Kidnapped into Slavery and their Astonishing Odyssey Home
Thursday, May 14, 2020 at 7:30 p.m.
Historian Richard Bell will speak about his new book, a gripping true story about five boys who were kidnapped in the North and smuggled into slavery in the Deep South  — and their daring attempt to escape and bring their captors to justice.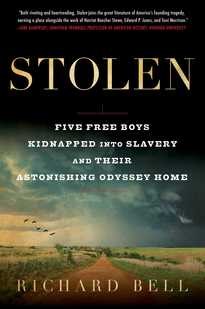 In Philadelphia in 1825, five free black boys were lured onto a small ship with the promise of food and pay, but were instead met with blindfolds, ropes, and knives. Over four months, their kidnappers drove them overland into the Cotton Kingdom to be sold into slavery. Determined to resist, the boys formed a tight brotherhood as they struggled to free themselves and find their way home.
Their ordeal shines aglaring spotlight on the Reverse Underground Railroad, a black market network of human traffickers who stole thousands of legally free African Americans from their families in order to fuel slavery's rapid expansion in the decades before the Civil War.
Dr. Richard Bell is Associate Professor of History at the University of Maryland. He is the recipient of the National Endowment of the Humanities Public Scholar award, and is an elected member of the Colonial Society of Massachusetts.
Copies of Stolen will be available for purchase and signing at the event.