Unless otherwise noted, all lectures and book talks are held in the Slave Quarters located at 15 George Street in Medford, Massachusetts. Visit our Directions and Map page for more information. 
For regular public programs, admission is free for members, free for two guests per EBT card, and $10 for non-members. Tickets are available for purchase at the door unless otherwise noted. 
Holiday Shopping Day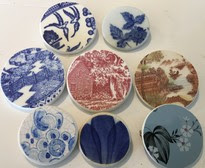 Saturday, December 7, 12:00 – 2:00 p.m.
Our museum gift shop at 15 George Street, Medford, Massachusetts will be open for holiday shopping on Saturday, December 7th this year. Shop for handcrafted items including organic soaps, tumbled shard brooches, hand-dipped beeswax candles, and eighteenth-century games, toys, and crafts. Museum cards, bookmarks, magnets, and mugs make perfect gifts. An assortment of fiction and nonfiction for adults and children – with several titles autographed by their authors – will appeal to history lovers of any age.
All museum shop proceeds support the work of the Royall House and Slave Quarters.
Black Lives, Native Lands, White Worlds: A History of Slavery in New England
Wednesday, December 18, at 7:30 p.m. at Tufts University's Cabot Center
170 Packard Avenue, Medford, MA 02155
Shortly after the first Europeans arrived in 17th century New England, they began to enslave the area's indigenous peoples and import kidnapped Africans. By the eve of the American Revolution, enslaved people comprised only about 4% of the population, but slavery had become instrumental to the region's economy and had shaped its cultural traditions.
In this concise yet comprehensive history, Jared Ross Hardesty focuses on the individual stories of enslaved people in New England, bringing their experiences to life. He also explores the importance of slavery to the colonization of the region and to agriculture and industry, New England's deep connections to Caribbean plantation societies, and the significance of emancipation movements in the era of the American Revolution.
Dr. Jared Hardesty is an Associate Professor of History at Western Washington University. He is the author of Unfreedom: Slavery and Dependence in Eighteenth-Century Boston.
TICKETS: Admission is free. Pre-registration is encouraged but not required.
BOOKS: Reserve copies of Black Lives, Native Lands, White Worlds for $20 each through December 4th via our Eventbrite page, linked below, to pick up when you arrive. Copies will also be available for purchase for $24 at the event, while supplies last.
TRANSPORTATION: Tufts University is accessible via public transportation. Take the Red Line to Davis Square, then buses #94 or #96 from Davis Square; ask the driver to stop across from the Memorial Steps at Tufts University. Alternatively, visitors may walk 15 minutes from Davis Square up College Avenue.
PARKING: Pay-to-park in Tufts' Dowling Garage is $8 (located at 419 Boston Avenue, Medford). Alternatively, purchase an $8, one-day parking permit online and display on your dashboard to park in any campus lot. Public Safety's website provides permit purchase options and parking maps.
Save the Date: Public Programs in 2020
Transcendentalists, Abolitionists, John Brown, and Beyond: The New Englanders Who Made John Brown a Hero. Sunday, January 12, 2020 at 7:00 PM. Historian Richard Smith will speak at the Medford Historical Society & Museum about the aftermath of Brown's Raid. Co-sponsored by the Medford Historical Society & Museum and the Medford Public Library.
Slavery's Descendants: Shared Legacies of Race and Reconciliation. Wednesday, January 15, 2020 at 7:30 PM. Co-Editor Dionne Ford and contributor Catherine Sasanov will discuss this collection by writers from a variety of backgrounds – all members of Coming to the Table, a national racial reconciliation organization – recounting their stories of dealing with America's racial past through their experiences and their family histories.
The Last & Living Words of Mark: Following the Clues to the Enslaved Man's Life, Afterlife, and Community. Wednesday, April 15, 2020 at 7:30 PM. Mark was an enslaved Charlestown blacksmith, husband, and father. Accused of petit treason after he and co-conspirators were discovered in the poisoning death of their enslaver John Codman, in 1755 Mark was tried and found guilty, hanged, and gibbeted. Twenty years later, Paul Revere mentioned the gruesome landmark "where Mark was hung in chains" in describing his midnight ride. Poet and independent scholar Catherine Sasanov will explore the haunting details of Mark's short life.