Your membership donation helps us preserve and maintain one of the only freestanding quarters where enslaved people lived and worked in the North, and an architecturally significant Georgian mansion. Your donation also enables us to share the complex and intertwined stories of freedom and slavery in New England and beyond through our unique school programs, tours, and public programs.
Join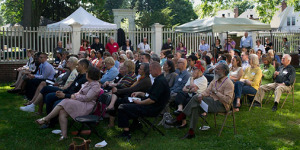 Members provide the Royall House and Slave Quarters with critical support for museum operations and special projects. Members receive free admission to the museum, free or discounted admission to most programs, and a subscription to our informative newsletter.  We encourage you to join as an individual or family member. Please visit our Join page to become a member.
Volunteer
Volunteers play a range of vital roles at the museum, from supporting outreach efforts to maintaining the historic landscape around the mansion house and slave quarters.  We also welcome donations to support our ongoing programs and important initiatives in education, interpretation, and preservation. Please visit our Volunteer page to learn more about volunteering opportunities.
Donate
The Royall House and Slave Quarters is a unique historic site.  With your help we will ensure its future as a resource for the local community, the region, and beyond. Please visit our Donate page to make a tax-deductible contribution.