Individual support makes it possible for the Royall House and Slave Quarters to preserve two historically and architecturally significant buildings, teach school children about an important period in American history, inform the general public on the subject of northern colonial slavery, and inspire and entertain with thought-provoking public programs.
***Join/Donate, and You Might Win Tickets for Ta-Nehisi Coates in Medford***
Have you been thinking about joining the Royall House & Slave Quarters as a member? Join by 11/13/2019 and you will be automatically entered to win two tickets to see Ta-Nehisi Coates at Medford's Chevalier Theatre on 11/18/19. Each ticket is valued at $45, and includes a copy of The Water Dancer, the author's acclaimed debut novel. Drawing will take place on 11/14/19.
Already a member? Make a gift of $25 or more to our annual fund to be entered.
The RH&SQ thanks a longtime member for donating these tickets. We appreciate your consideration of support!
Join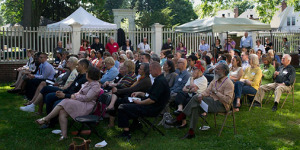 Members provide the Royall House and Slave Quarters with critical support for museum operations and special projects. Members receive free admission to the museum, free or discounted admission to most programs, and a subscription to our informative newsletter.  We encourage you to join as an individual or family member. Please visit our Join page to become a member.
Volunteer
Volunteers play a range of vital roles at the museum, from supporting outreach efforts to maintaining the historic landscape around the mansion house and slave quarters.  We also welcome donations to support our ongoing programs and important initiatives in education, interpretation, and preservation. Please visit our Volunteer page to learn more about volunteering opportunities.
Donate
The Royall House and Slave Quarters is a unique historic site.  With your help we will ensure its future as a resource for the local community, the region, and beyond. Please visit our Donate page to make a tax-deductible contribution.