"In Honor of the Enslaved Whose Labor Created Wealth That Made Possible the Founding of Harvard Law School"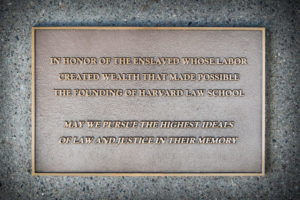 Harvard Law School was founded in 1817 through a bequest from Isaac Royall Jr., whose family's significant wealth was largely derived from the labor of enslaved people on Antiguan sugar plantations. We were honored to be present at the unveiling of this memorial "In honor of the enslaved whose labor created wealth that made possible the founding of Harvard Law School."
Royall Professor of Law Janet Halley "read aloud the known names of enslaved men, women, and children of the Royall household from records that have survived. She noted that many of the names—just first names, with no last names—were probably not the original names that had been given to these individuals at birth.
"'These names then are the tattered ruined remains, the accidents of recording, and the encrustation of a system that sought to convert human beings into property,' Halley said. 'But they're our tattered ruined remains, and I thought I would devote my remarks to reading them out.'"
You can read more about the unveiling in articles from Boston Magazine, Harvard Law Today, the Harvard Gazette, and Harvard Magazine.
The Royall House and Slave Quarters Receives Its Second $100K for 100 Grant from the Cummings Foundation
It is with overwhelming gratitude that we announce our museum's second $100K for 100 grant from Cummings Foundation.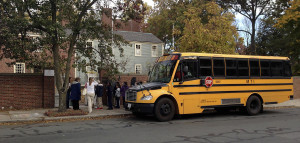 Our first grant enabled us to restore the Slave Quarters meeting room for use as a classroom for school field trips; supported school program staffing and bus subsidies, to ensure that students from low-income school districts could experience our site's stories, and funded several much-needed preservation projects in the mansion and on the grounds.
This new $100,000 grant will enable us to utilize short-term professional expertise over the next 4 years to accomplish organizational goals in the areas of preservation, youth education, collections management, and diversity.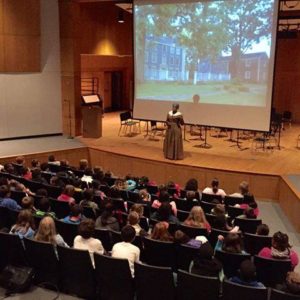 Shown here: Tammy Denease introduces Belinda Sutton, enslaved by the Royalls on our site, to Medford's 5th graders in October 2015. She'll return next month, again in character as Belinda, to meet the current class of 5th graders. Cummings Foundation will have funded student transportation costs for both of these programs.


Reflections on the Performance by the US Slave Song Project's Spiritual Choir
We were delighted to host a free concert by the US Slave Song Project Inc. on the Royall House & Slave Quarters museum grounds on Sunday, August 3rd. The Spiritual Choir drew a large crowd, and the comfortably cool weather made for a lovel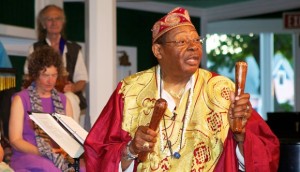 y afternoon.
Read the Project's two blog posts about the event, and visit their website here, as well as a commentary in the Vineyard Gazette here.
The U.S. Slave Song Project, based in Oak Bluffs on Martha's Vineyard, is a nonprofit organization dedicated to educating the public about the authentic American folk music known as slave songs or spirituals. Under the direction of founder Jim Thomas, the chorus will perform songs that enabled enslaved African-Americans to communicate with one another, teach their children, record their history, and heal their pain.
Mary and Elizabeth Royall Return Home
John Singleton Copley's 1758 painting of "Mary and Elizabeth Royall" is prominently displayed in the new Art of the Americas wing at the Museum of Fine Arts, Boston.  And now, thanks to a multi-faceted community partnership, a large, high-quality reproduction of Copley's portrait of the adolescent daughters of Isaac Royall is on display in the Royall House, as well. In a very generous example of nonprofit partnership, the Museum of Fine Arts offered our museum an archival replica of the painting at cost.  The Medford Arts Council– a local agency which is supported by the Massachusetts Cultural Council, a state agency– awarded a grant to enable us to make this purchase. An anonymous private foundation's grant paid to frame the reproduction, a task that was undertaken with great professionalism by Stanhope Framers.
Copley was just twenty years old when he completed this work, one of his few paintings of children, and believed to be his first double portrait.  According to the portrait's description by the MFA, "Royall's love for fine things is evident in the portrait he commissioned of his daughters, which was designed to show off the family's wealth and social status: the girls are dressed in expensive silk gowns trimmed with imported lace, and the velvet drape behind them was intended to bring to mind portraits of English aristocrats who had themselves painted in such a setting.  Even the pets in the picture conveyed status: the King Charles spaniel was a favorite of British royalty, and the hummingbird perched on Mary's finger may have been imported from the West Indies, where Royall conducted profitable trade. The obedient pets and the girls' modest demeanor were also meant to indicate the girls' character, showing them to be polite, disciplined, well-mannered young women– good daughters and good future wives."
A Conversation with Board Member Jennifer Pustz and Textile Artist Ifé Franklin
On Wednesday, Oct. 23 at 7 p.m., Spoke Gallery hosted a conversation with Ifé Franklin and Jennifer Pustz, member of the board of the Royall House & Slave Quarters. For her solo exhibition entitled Indigo Project, textile artist Ifé Franklin has created an 8-foot slave cabin in patchwork adire ("tie and dye") at Medicine Wheel's Spoke Gallery in South Boston. To learn more about about Ms. Franklin and the exhibition, read the full Boston Globe article.
Cummings Foundation Grant Supports Elementary School Programs

We are very excited to announce that the Royall House and Slave Quarters is a 2013 recipient of a Cummings Foundation $100K for 100 grant. The grant will support in-depth educational field trips at the museum for elementary school students, which will be focused on northern colonial slavery, the economics of the slave trade, and the lives of enslaved Africans in the Massachusetts colony.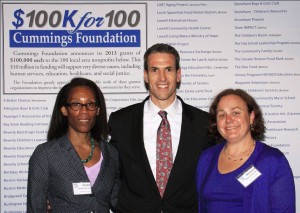 Educational resources will include the museum's buildings, household items, artifacts unearthed on site, and a rich collection of relevant primary source documents. The first year's allocation will address preservation, accessibility, and sustainability issues in the Slave Quarters meeting room, which will be used as classroom space for the school programs. Three subsequent years' funding will support program implementation, including educational staff and transportation subsidies to ensure that students from low-income school districts have access to this important American history. We are deeply grateful to Cummings Foundation and the Cummings family for their confidence in our organization.
Royall House and Slave Quarters Honored by Mass Humanities
On Monday, June 3, Mass Humanities presented the Royall House and Slave Quarters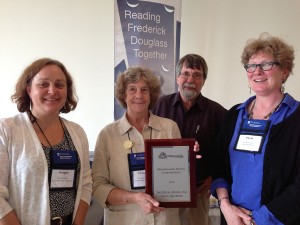 with the 2013 Massachusetts History Commendation at its annual Mass History Conference.  This award recognizes groups or individuals who do outstanding work to make history more relevant and meaningful to the people of Massachusetts. Explaining why the organization was chosen for recognition, Pleun Bouricius, assistant director of Mass Humanities, said, "During the past decade, the Royall House and Slave Quarters has acted upon the recognition that its concrete and physical connection to the local history of enslavement of African-Americans needed to be brought to the fore. The organization committed itself to historical honesty, wrote grant proposals and researched its history, collaborated on extensive archaeology work, and created and implemented a plan to adjust its identity as a historic site.  With the help of dedicated volunteers, the Royall House and Slave Quarters is emerging as a leader in its field in Massachusetts, and an example to other organizations with small purses and large plans."  Past recipients of the Commendation include State Representative Byron Rushing and the Historical Journal of Massachusetts. The award further strengthens the relationship between the Royall House and Slave Quarters and Mass Humanities.  Over the past several years, Mass Humanities has awarded several grants to the museum to support its work.  These have included funding to develop on-site school programs, research into the correspondence of the Royall family, and the launch of a new website to better tell the museum's story.